Dr. Iacopo Cioffi
Meet Dr. Iacopo Cioffi, orthodontist in our midtown Toronto office here at Delisle Dental Group.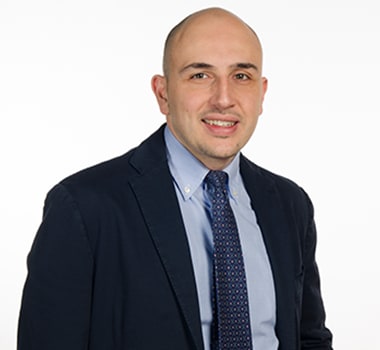 Dr. Iacopo Cioffi | Orthodontist
Dr. Cioffi is a certified orthodontist specialized in the treatment of malocclusions of kids and adults with conventional and ceramic braces, lingual appliances (braces on the inner sides of the teeth), and Invisalign. He is an internationally recognized expert in temporomandibular disorders (TMD) and has published >50 research papers on the topics of orthodontics and TMD in highly qualified scientific journals. He also teaches TMD at the University of Toronto.
He received his dental and specialty training, and his PhD at the University of Naples Federico II (Italy) and completed the Dental Specialty Assessment and Training Program (Orthodontics) at the University of Toronto. He was also trained at the Research Lab for Masticatory Disorders at the University of Zurich, Switzerland, and the Department of Functional Anatomy at ACTA (Amsterdam, the Netherlands).
Dr. Cioffi is a member of the E.H. Angle East Society of Orthodontists, the European Orthodontic Society, the American Association of Orthodontists, the International Association for The Study of Pain, the Canadian Pain Society, and the International Association for Dental Research.
Dr. Cioffi is happy to provide service to our community and be a member of the Delisle Dental team!